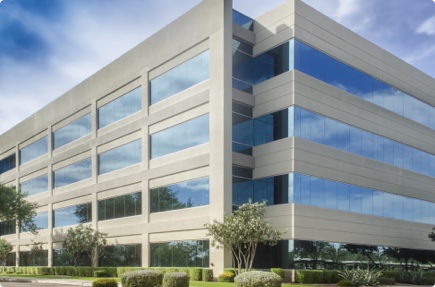 The Florida Commercial Real Estate Experts
Looking for an experienced Florida commercial real estate agent? Your search ends here. With thousands of properties encompassing the state, we've managed to develop our business throughout Central and South Florida. We enlist only the most capable experts in commercial real estate leasing, purchasing, selling and property management. RE/MAX Town Centre Commercial specializes in the selection of office buildings, warehouses, multi-family projects, and shopping centers. Our commercial advisors also assist with site selection, leasing negotiations, and tenant improvement dollars.
Through our unique client-focused approach and commitment to quality, we have established ourselves as a leader in the commercial real estate. Regardless of property or transaction type, RE/MAX Town Centre guarantees a level of service and results that our competitors simply cannot match. We have access to all commercial property listings, websites & corporate support services.
RE/MAX Town Centre uses an evolutionary style and approach to find the best commercial property for the customer. Our process delivers the best possible end result and that final moment when you realize…it's perfect! Looking for an experienced commercial agent in Florida? RE/MAX Town Centre executives are experts in sales, leasing and the management of commercial office buildings, shopping centers, and multi-family projects. Additional services include:
Buyer/Tenant Representation
Assistance with site selection
Lease term negotiations
Financing
Business brokerage
Tenant improvement allowances
Paperless contracting
Global marketing
Rest assured that you've put the right piece of real estate in the right hands. It's what our commercial real estate professionals do every day. We are living life on the cutting edge of the real estate industry using our talents and inspirations both as individuals and as a team. We've gone viral! Market your property in over 100 countries, 54 languages, and multiple currencies through our innovative GLOBAL.REMAX.com website.
Additionally, RE/MAX Town Centre will co-list your commercial property in Central and South Florida at no additional cost! This is how our team of real estate professionals has produced over $50 million in gross sales since inception, closing more than 10,000 commercial properties throughout Florida.
Commercial Real Estate Services
BUYER REPRESENTATION – Our findings take us to that one-of-a-kind property with the highest rate of return.
SITE SELECTION – You've come to the right place for commercial properties. We've got thousands right at our fingertips.
BUSINESS BROKERAGE – We've gone global. Looking to buy an exceptional business? No problem, we have 4,000 commercial partners to help.
NEGOTIATIONS – We deliver success while exercising a high level of ownership to ensure favorable terms and pricing.
TENANT REPRESENTATION – We use a revolutionary approach to find the ideal commercial property to purchase or sell.
TALENT – We can locate that once-in-a-lifetime property with the highest profitability.
While the idea of owning income property sounds appealing, many homeowners inevitably discover that managing a rental property can be a huge challenge. RE/MAX Town Centre allows property owners to enjoy the profitability of their investment without the struggles associated with daily management. Our expert Leasing and Property Management Division has the long-term experience and capabilities to successfully manage your condominium, townhouse, or single-family home.
The RE/MAX Town Centre Advantage
GLOBAL REACH
The world's largest real estate company with offices located in over 100 countries spanning around the globe.
EFFICIENT
We're 100% digital – we use a paperless contract system that allows clients to sign electronically with 24/7 access.
TRACK RECORD
We are Florida's most celebrated real estate company with over 18 years of continuous growth.
HISTORIC RESULTS
We produce phenomenal results. RE/MAX Town Centre-Commercial brokered over $50 million throughout Florida.
FINANCE
We work with several commercial lenders to assist in securing financing for our clients.
TALENT
With nearly 100 agents in our Florida offices alone, RE/MAX Town Centre offers you well trained professionals that are not only talented, but also industry leaders.