The information below is directly from the Zillow® Group Consumer Housing Trends Report 2016. Source: Zillow
Download The Report Start Your Home Search
SEARCHING & SHOPPING RESOURCES
Online resources and agents top the list
The majority of buyers rely on both online resources and guidance from a real estate agent during their home search. Eighty-seven percent of buyers use online resources and 75 percent select a real estate agent or broker to work with, suggesting that most buyers combine self-directed research using websites and apps with the market expertise and human touch offered by a real estate professional. In fact, buyers who utilize online resources during their home search are significantly more likely to also use an agent (77 percent versus 59 percent who do not use online resources).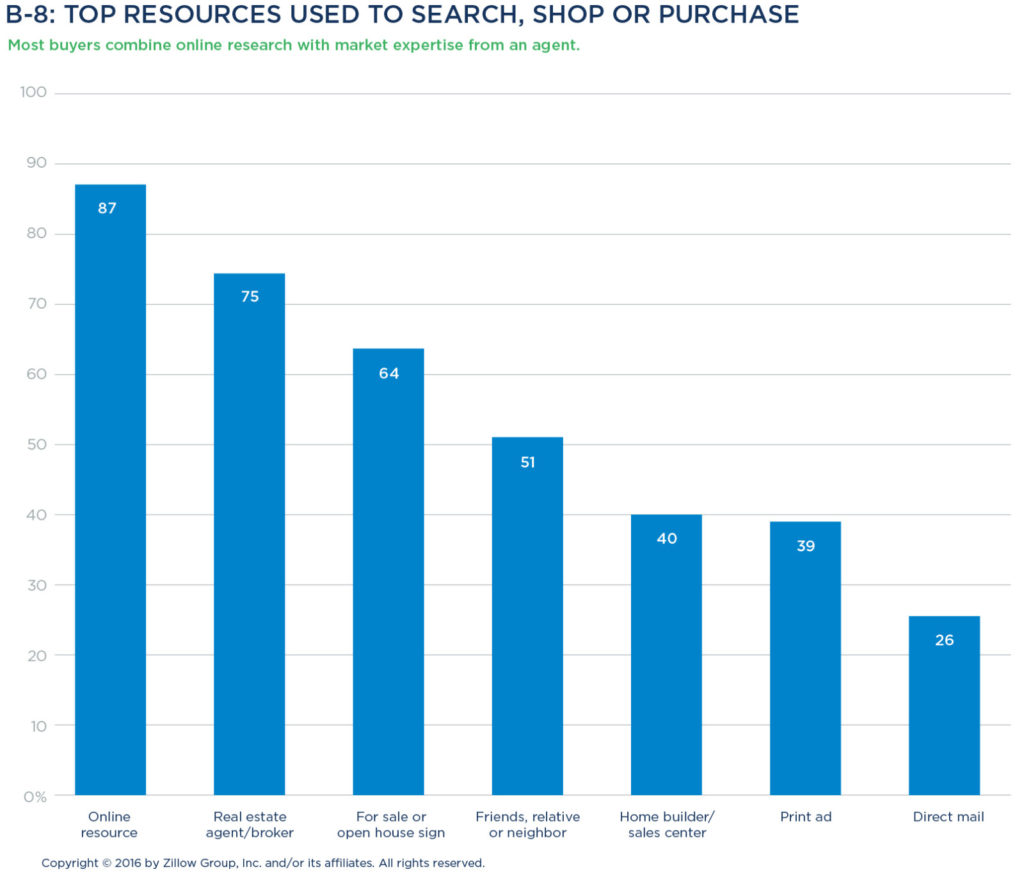 Additional resources utilized by buyers during their home search include for sale and open house signs (64 percent of buyers) as well as referrals from friends and family (51 percent). Buyers, particularly those
considering homes that haven't been lived in before, often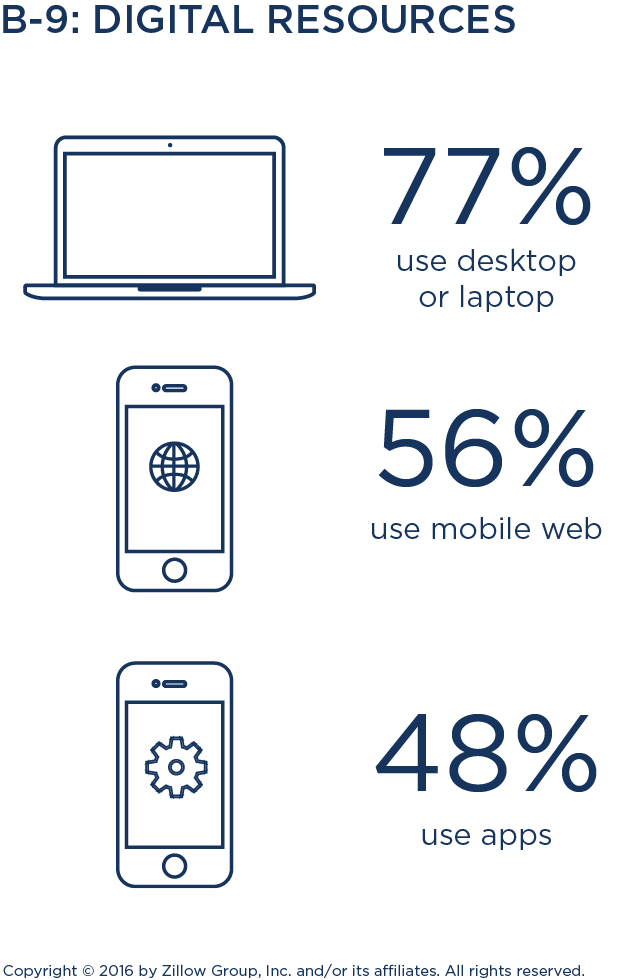 rely on sales centers and new home development offices as a resource (40 percent). Print ads (39 percent) and direct mail (26) are the least used resources.
Buyers use multiple devices to access online resources
Buyers using online resources during their home search are accessing them from a variety of devices, most often desktop computers (77 percent), followed by mobile websites (56 percent) and mobile apps (48 percent). Utilizing mobile devices to search for homes is most prevalent among buyers under age 50, with 66 percent of Millennial buyers and 62 percent of Generation X buyers accessing via mobile, compared to 42 percent of Baby Boomers and just 20 percent of the Silent Generation.
In addition to searching online and using agents, Millennials rely on their personal networks. They're the generation most likely to turn to a friend, neighbor, or relative to inform their home search (58 percent, versus 52 percent of Generation X buyers, 42 percent of Baby Boomers, and 37 percent of the Silent Generation). They're also more likely than older generations to visit a builder's sales center and slightly more likely to consider direct mail a resource.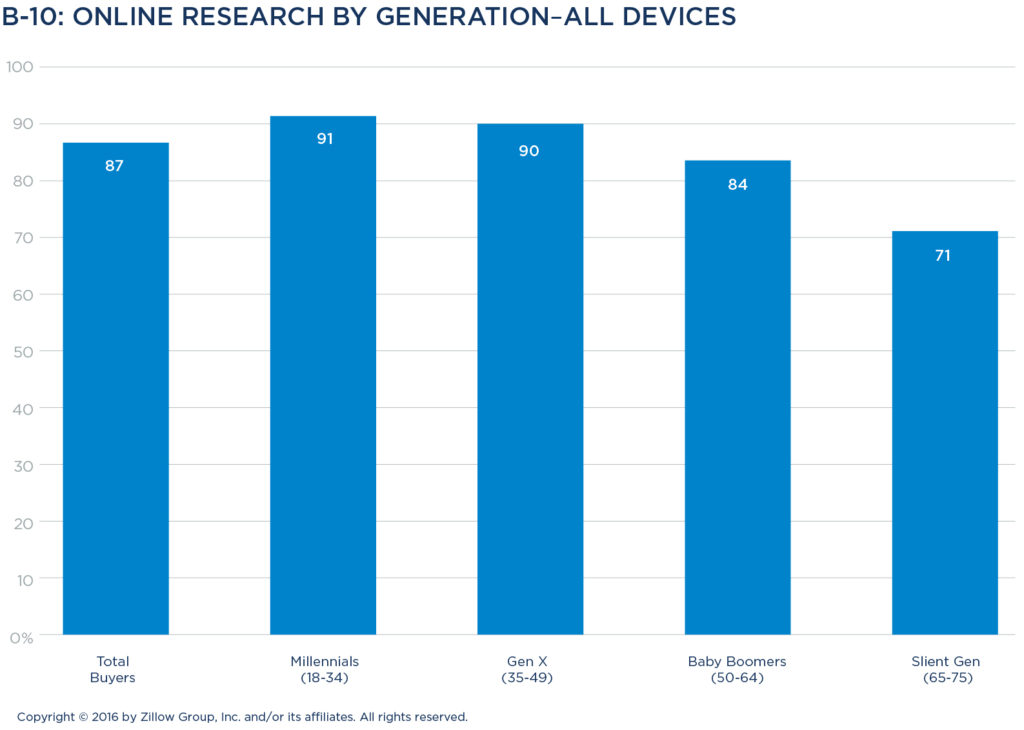 Use of agents varies by generation & ethnic group
The older the buyer, the more likely that buyer is using an agent. Baby Boomers and the Silent Generation rely most heavily on an agent or broker for real estate guidance, with 83 percent and 81 percent respectively citing them as a resource in their home search. Seventy-four percent of Generation X buyers report using an agent, followed by 70 percent of Millennials.
Although use of agents is relatively high among all racial and ethnic backgrounds, Asian/Pacific Islanders are most likely to use an agent (82 percent) compared to Caucasians and Latinos/Hispanics (76 percent and 71 percent, respectively). Black/African-American buyers are the least likely to use an agent (68 percent).
Other demographic groups more likely to use an agent include women (78 percent versus 73 percent of men) and those earning more than $75,000 (77 percent versus 61 percent among those earning less than $25,000). Additionally, repeat buyers are more likely to use an agent than first-timers, with 78 percent of repeat buyers hiring one versus 70 percent of first-timers.
Half of buyers enlist an agent at the start
Just over half (51 percent) of buyers who use an agent involve them at the very beginning of their home search. Forty-one percent get started on their own, choosing to enlist an agent before they make an offer. This includes 27 percent who involve an agent after they have been searching for a while but before they tour any homes, and 14 percent who enlist an agent after they have started touring, but before starting the offer process. Baby Boomers are more likely than other generations to begin touring homes independently before selecting an agent, with 19 percent of this generation doing so.
Just 7 percent of total buyers who use an agent wait until they're ready to make an offer before enlisting their services.
Buyers consider at least two agents
The average number of agents buyers consider hiring is 2.2. Slightly more than half (53 percent) of buyers using an agent considered multiple agents, with 26 percent choosing from two. There are marked differences among the number of agents considered when it comes to the generational cohorts. Sixty-eight percent of the Silent Generation and 57 percent of Baby Boomers considered only one agent, compared to 44 percent of Generation X and 38 percent of Millennials considering just one agent.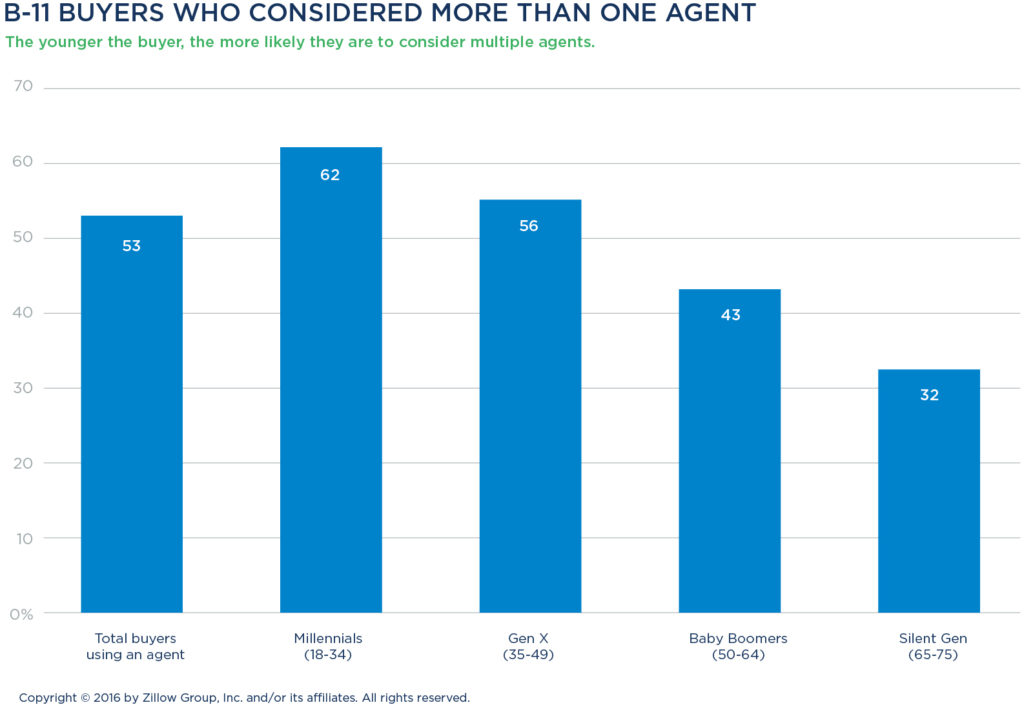 While 33 percent of buyers find an agent via referrals, nearly that many—26 percent—are finding an agent online. Only 3 percent of buyers find their agent through newspaper ads, and 2 percent find them through direct mail such as postcards or newsletters.
Millennial and Generation X buyers are more likely to find their agent online, with 29 percent and 27 percent respectively finding an agent through this resource. Just 20 percent of Baby Boomer and 17 percent of Silent Generation buyers use the internet to find their agent.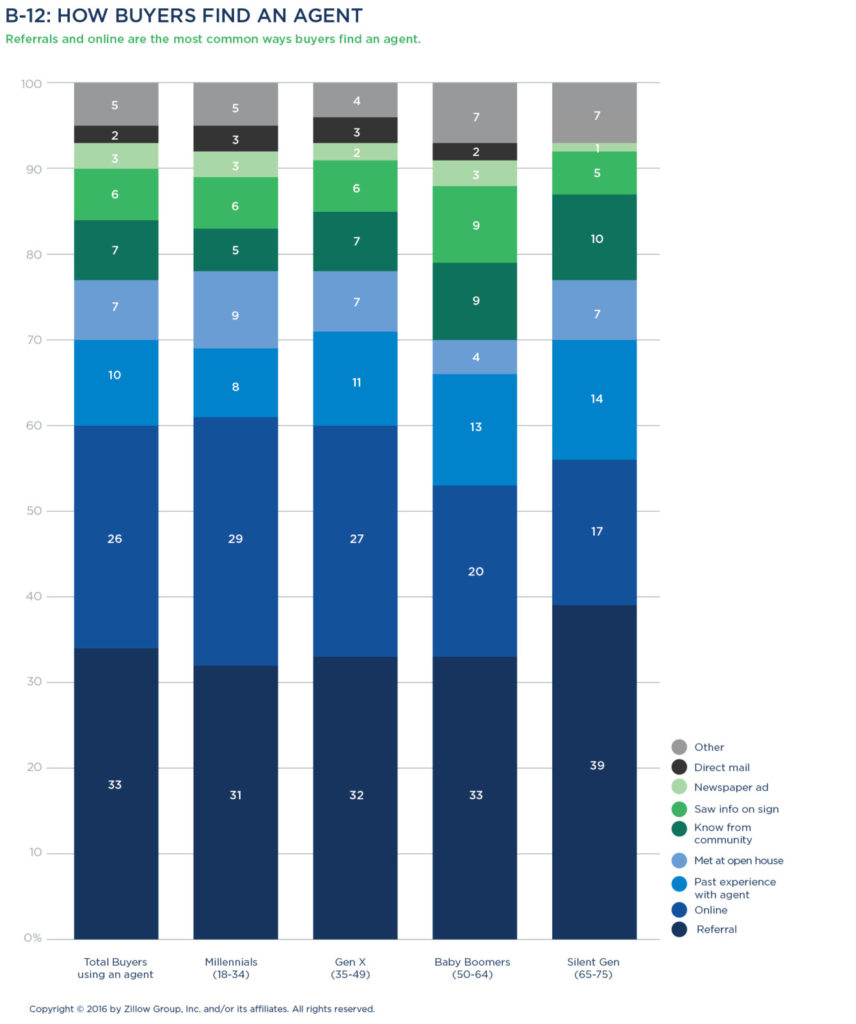 Buyers expect fast response to initial inquiry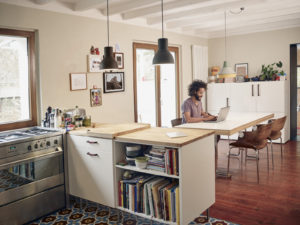 The older the buyer, the faster they expect an agent to respond to their initial inquiry. Over half of Silent Generation buyers (52 percent) expect agents to get back to them within a few hours, versus 47 percent of Baby Boomers, 40 percent of Generation X buyers and 40 percent of Millennials.
Among all buyers, 78 percent expect a response within one day. Only 22 percent consider it acceptable for an agent to take two or more days to respond.
Local market knowledge and a positive first impression are key
Buyers scrutinize prospective agents in multiple ways, including:
Evaluating an agent's local market knowledge (60 percent)
Reviewing brokerage websites (58 percent)
Asking friends and family about experiences with an agent (56 percent)
Reading online agent reviews (50 percent)
Reviewing agents' sales histories (46 percent)
Interviewing agents (44 percent)
Millennials are particularly likely to evaluate an agent online, including reading online reviews (61 percent) and delving into past sales data (57 percent).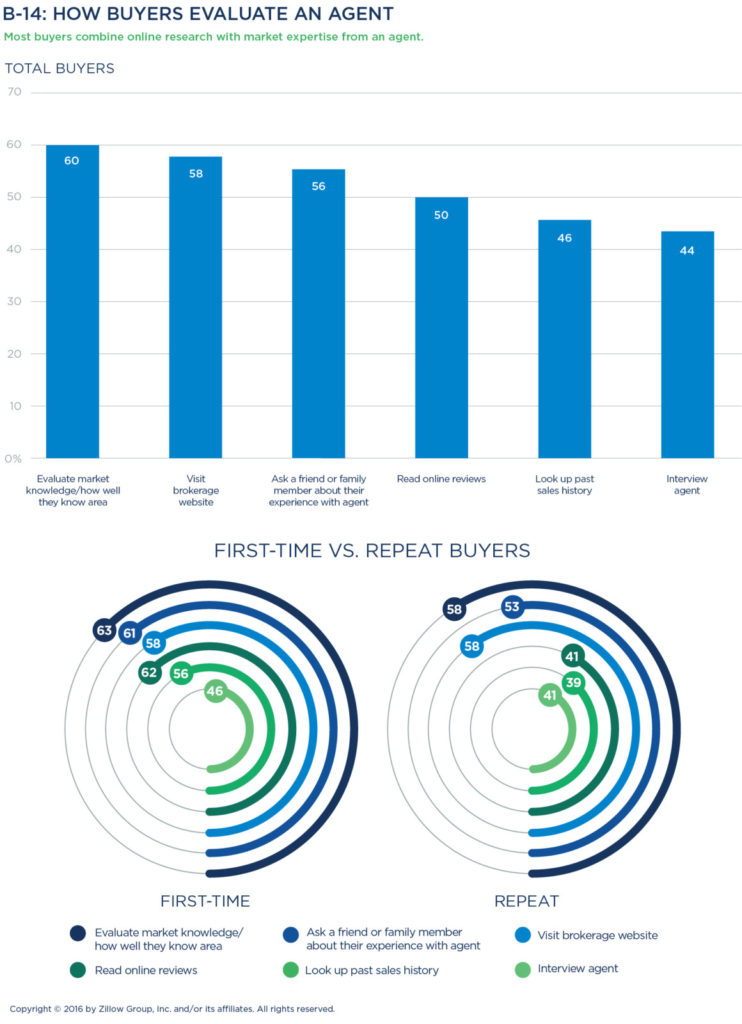 First-time buyers in particular devote considerable effort evaluating potential agents. These buyers are much more likely to read online reviews (62 percent versus repeat buyers at 41 percent), check an agent's sales history (56 percent versus repeat buyers at 39 percent), and ask friends and family about an agent (61 percent versus repeat buyers at 53 percent).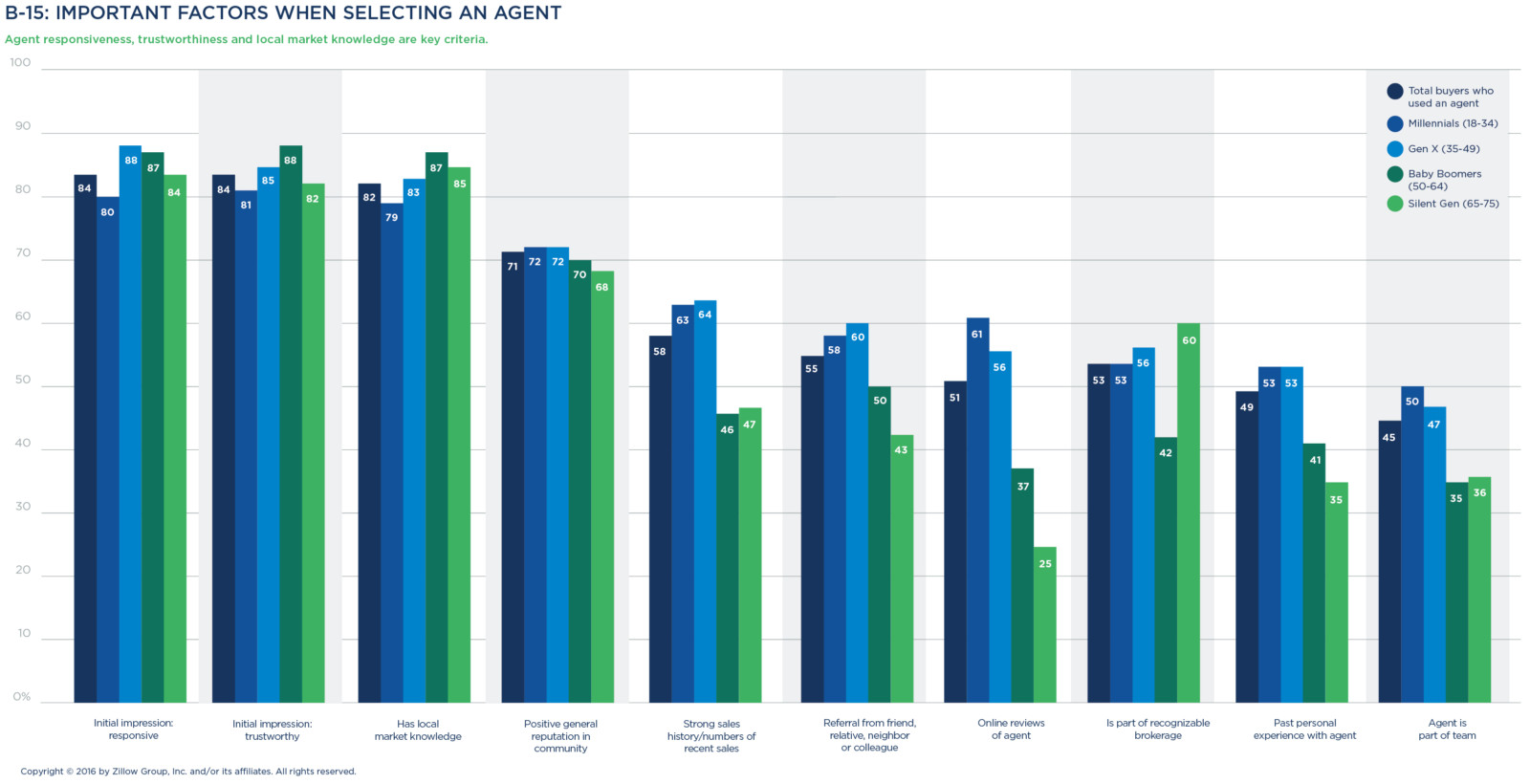 Ultimately, buyers' first impressions and confidence in an agent's local market knowledge are the most important factors in their decision to hire a particular agent.More than 80 percent of buyers chose these traits as top determining factors in choosing an agent, viewing them as more important than an agent's recent sales results, a personal referral, or being a part of a recognizable brokerage.
Regionally, being part of a recognizable brokerage is of particular importance to buyers in the Northeast (59 percent versus a 52 percent average for other U.S. regions). Buyers in the West place more importance on having a referral from a friend or relative (61 percent versus a 54 percent average for other U.S. regions) and checking online agent reviews (56 percent versus a 50 percent average for other U.S. regions).
Regarding first impressions, buyers prioritized both trustworthiness and responsiveness as traits they're looking for when first meeting an agent. Women in particular value these two traits as top criteria when selecting an agent (88 percent for each, versus 81 percent and 83 percent, respectively, for men).
Preferred communication is via phone call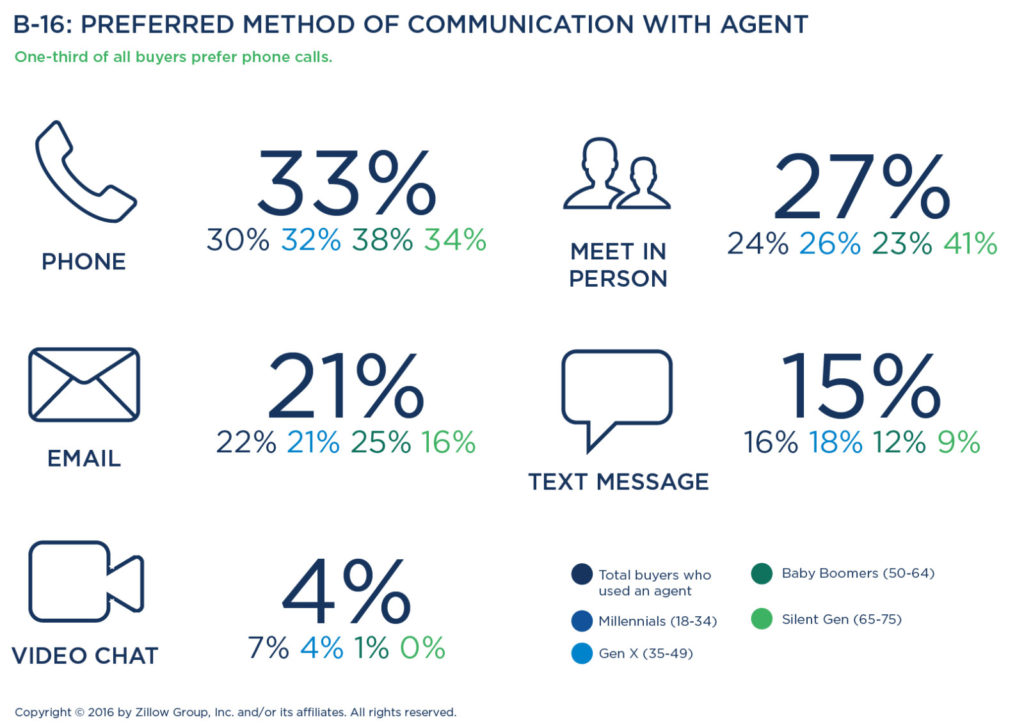 When it comes to regular communication with an agent, one-third of all buyers prefer phone calls, while in-person meetings appeal to just over a quarter of buyers (27 percent) and are of particular interest to the Silent Generation (41 percent versus an average of 25 percent for younger generations). Baby Boomer buyers (25 percent) show the highest preference for email interaction, while Millennial and Generation X buyers are slightly more amenable to texting (Millennials 16 percent, Generation X 18 percent).
Home tours rank as top service
The top service buyers want from their agents is private home tours (67 percent). They're also depending on agents for notifications about new homes on the market (58 percent) and pre-screening homes (44 percent). Additionally, buyers ask agents for referrals to home inspectors (34 percent) and mortgage lenders (25 percent), and even to provide listings that fall outside their expressed buying criteria (31 percent).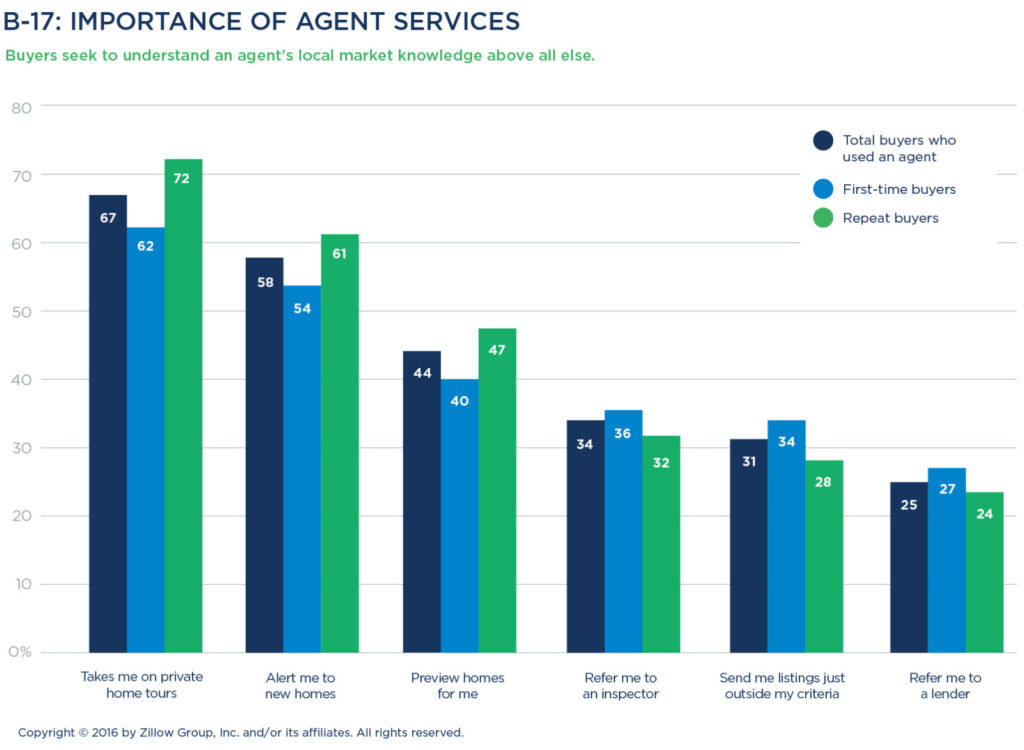 First-time buyers prefer seeing homes in person (62 percent) to having them previewed by an agent (40 percent), and are more interested in inspector referrals and seeing listings outside their initial search criteria. Repeat buyers are more receptive to agents previewing homes for them (47 percent) but still appreciate in-person tours (72 percent).
Silent Generation buyers (78 percent) expect agents to give them private home tours, compared to 66 percent for younger generations. Across racial and ethnic lines, Asians/Pacific Islanders and whites/Caucasians also place high value on private home tours (71 percent and 69 percent, respectively, versus 60 percent for Latinos/Hispanics and 58 percent for blacks/African-Americans).
Women more often care about private home tours (72 percent of women, 65 percent of men) and getting information on new listings from their agent (63 percent of women, 56 percent of men), while men are more open to having an agent screen properties (48 percent of men, 37 percent of women).
Today's Home Buyer
Today's home buyers are redefining so-called starter homes and buying the most expensive home they can afford—and freestanding houses are their top choice. Dominated by older Millennials and younger members of Generation X, today's buyers instinctively use virtual tools and word of mouth to understand what's happening in their market, but mirror older generations in their appreciation for the local expertise and guidance agents contribute to the buying process.
Most buyers finance their home purchase with a mortgage and most are shopping for a new home in the area where they already live. In today's competitive housing market, nearly all buyers get pre-approved for a loan early in the home shopping process, and they typically make more than one offer before succeeding with a purchase. To find an affordable home in the right location, buyers will consider fixer-uppers, foreclosures and even properties just outside their budget.
BUYER CHARACTERISTICS & CONSIDERATIONS
Buyers are young, educated and diverse
Buyers are defined as people who moved into a home that was purchased within the last year, which includes the main decision-makers and household members who had a say in the decision.
The typical home buyer is in their mid-to-late 30s or early 40s, married (67 percent), college-educated (75 percent), and on the hunt for a single-family home (83 percent). They have a median annual household income of $87,500. Seventy-five percent are Caucasian, with additional representation among Latinos/Hispanics (11 percent), black/African-Americans (7 percent) and Asians/Pacific Islanders (5 percent).
While the majority of buyers in America are married, single buyers (23 percent) and households of unmarried partners (10 percent) comprise more than one-quarter of the marketplace.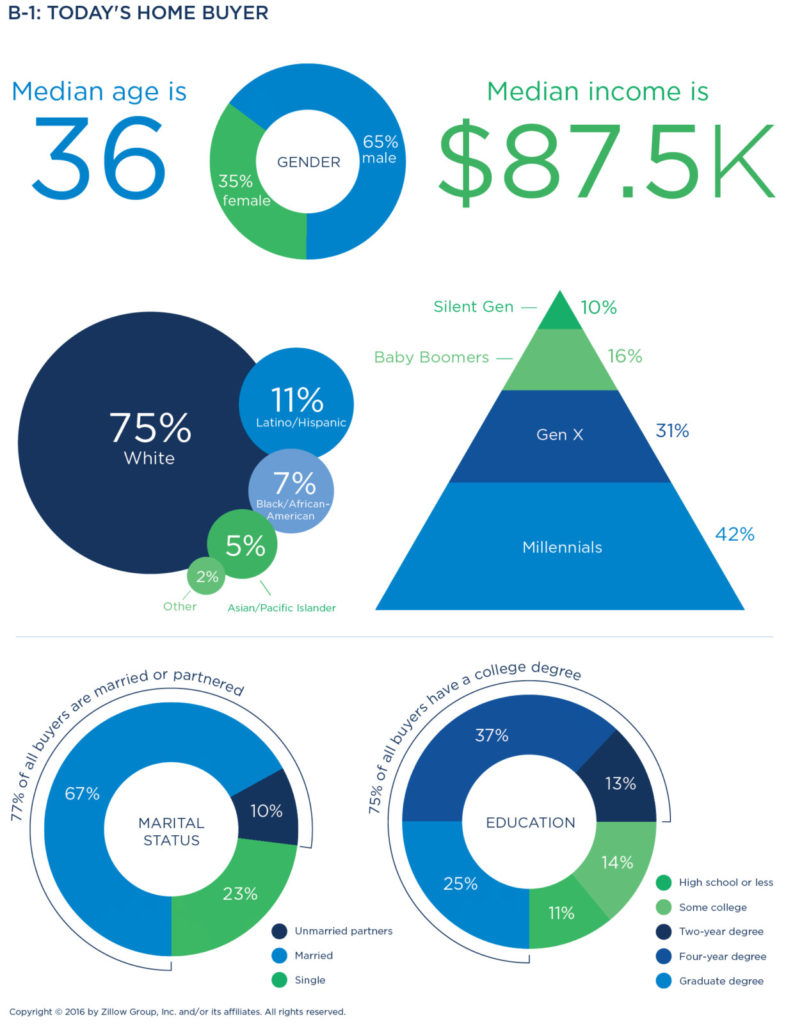 Millennials, ages 18-34, comprise 42 percent of all home buyers today, while an additional 31 percent of buyers are members of Generation X (ages 35-49). Baby Boomers (ages 50-64) and the Silent Generation (ages 65-75) together make up the smallest share of home buyers (26 percent), with only 10 percent of buyers over age 64.
Nearly half buying for the first time
First-time buyers, a group that makes up almost half (47 percent) of the buying market, have a median age of 33 and nearly six in 10 are Millennials (56 percent). They spend a median of $200,000 on a home. They are more likely than repeat buyers to be torn between buying and renting, with almost four in 10 seriously considering renting (37 percent, compared to just 12 percent of repeat buyers).
Repeat buyers are older, with a median age of 42. They have a preference for single-family homes over other home types, and pay an average of 18 percent more than first-timers for their home ($235,000 median price). Repeat buyers are slightly less decisive about location, with almost one in five (18 percent) purchasing a home in an area that is outside their initial search criteria, compared to just 14 percent of first-time buyers.
Home shopping a shared project
Home shopping is a shared activity, with 86 percent co-shopping with a spouse or partner (73 percent) or a friend or other family members (13 percent). Half (50 percent) of buying households include children under the age of 18, with one quarter (25 percent) of all buyers indicating their children had some influence on their home purchase.
Seventeen percent of younger Millennials (ages 18-24) are shopping for a home with a friend or roommate, with an additional 51 percent shopping with a spouse or partner. Older Millennials (ages 25-34), are more like the average buyer, as 73 percent are shopping with a spouse or partner.
Typical home search takes about four months
Buyers spend 4.2 months on average shopping for a home. The Silent Generation has the fastest search timeframe—spending an average of 3.8 months, followed by Millennials, who typically shop for four months. Baby Boomers spend 18 percent more time than Millennials on their home search, averaging 4.9 months searching for a home to buy.
Along gender lines, men tend to shop faster than women. Forty-seven percent of men but only 39 percent of women report finding a home in less than three months. Women need a little more time: 45 percent found a home within three to six months, versus 38 percent of men.
Most buyers desire a single-family house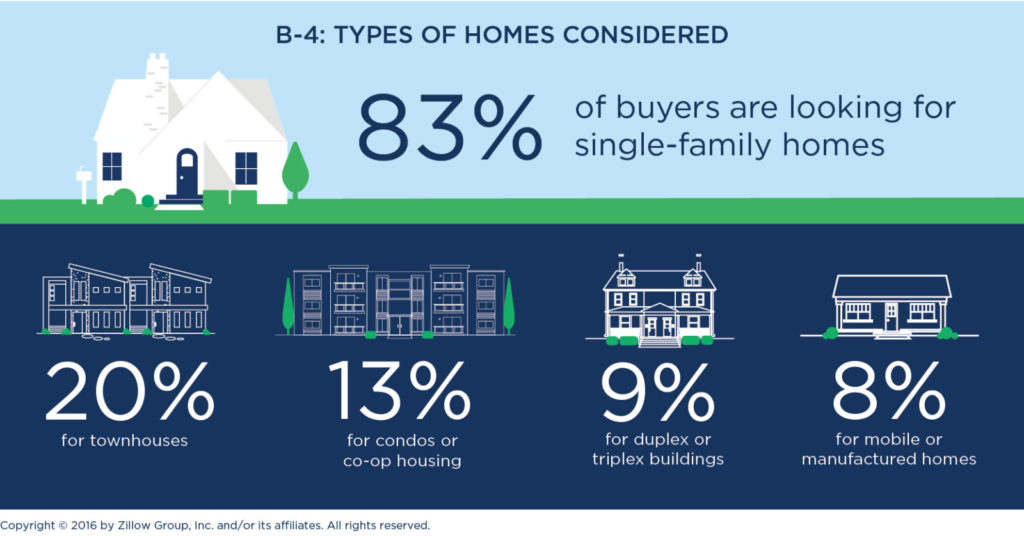 A freestanding, single-family house is buyers' top choice, with 83 percent of all buyers seeking this home type. Buyers also consider townhouses (20 percent), condominiums or co-op dwellings (13 percent), duplex or triplex buildings (9 percent), or mobile or manufactured homes (8 percent). Fifteen percent of buyers sought raw land or an empty lot.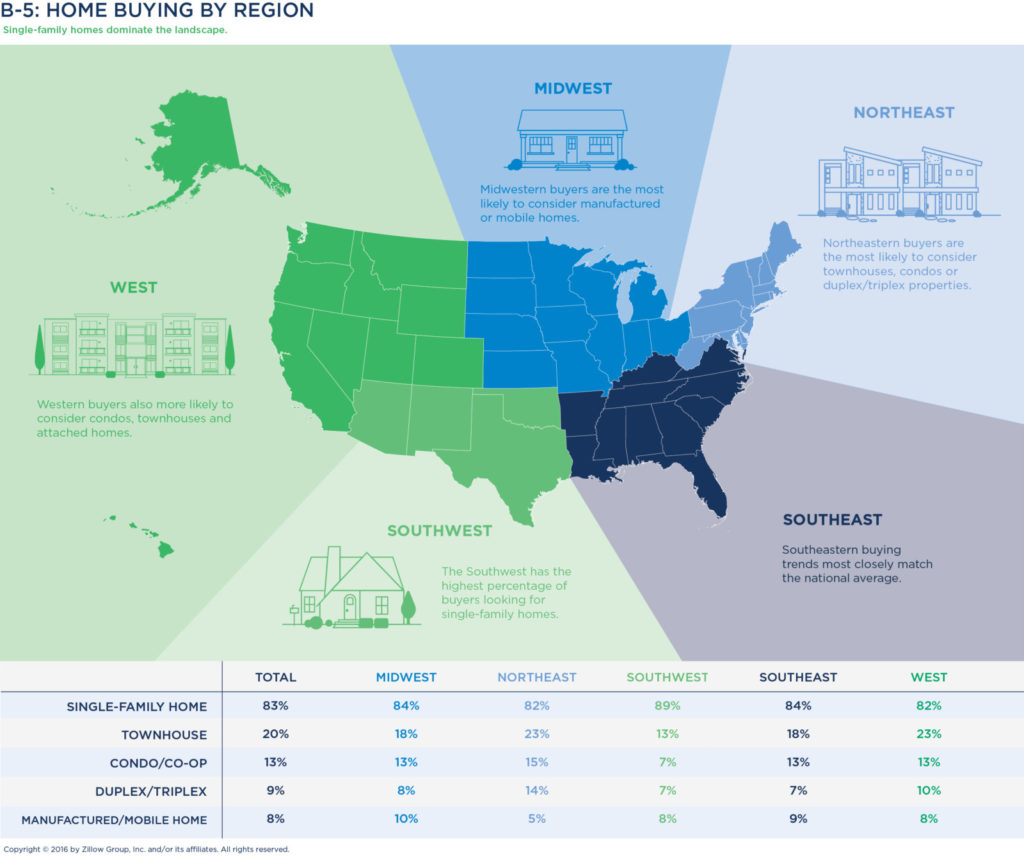 Buyers in the Southwest are the most likely to seek a single-family home, with 89 percent in the market for one. Compared to buyers in other regions, buyers in the Northeast are more likely to consider homes with shared walls, including townhouses (23 percent), condos/co-ops (15 percent) and duplexes/triplexes (14 percent). Buyers in the Midwest (10 percent) and Southeast (9 percent) are slightly more likely than other Americans to consider manufactured homes.
Housing by generation:
Millennials are housing-flexible. They're the most likely to look at townhouses (23 percent) or duplex/triplex properties (13 percent).
Generation X buyers are the least interested in condos and co-ops. They mostly consider single-family homes (85 percent) followed by townhouses (17 percent).
Baby Boomers show the highest willingness to buy manufactured housing (10 percent) and some interest in condominium or co-op homes (14 percent).
Silent Generation buyers are less interested in single-family homes and among the most receptive to yard-free living in a condo/co-op (23 percent) or townhouse (21 percent).
Distressed properties an option for the budget-conscious
Distressed properties, including foreclosure, auction and short sale homes, remain fairly common in today's real estate market, and roughly two in five buyers are open to purchasing these types of homes. Thirty percent of buyers consider purchasing a foreclosure, with women more likely to consider than men (32 percent versus 29 percent). In contrast, men are more likely to consider purchasing an auction home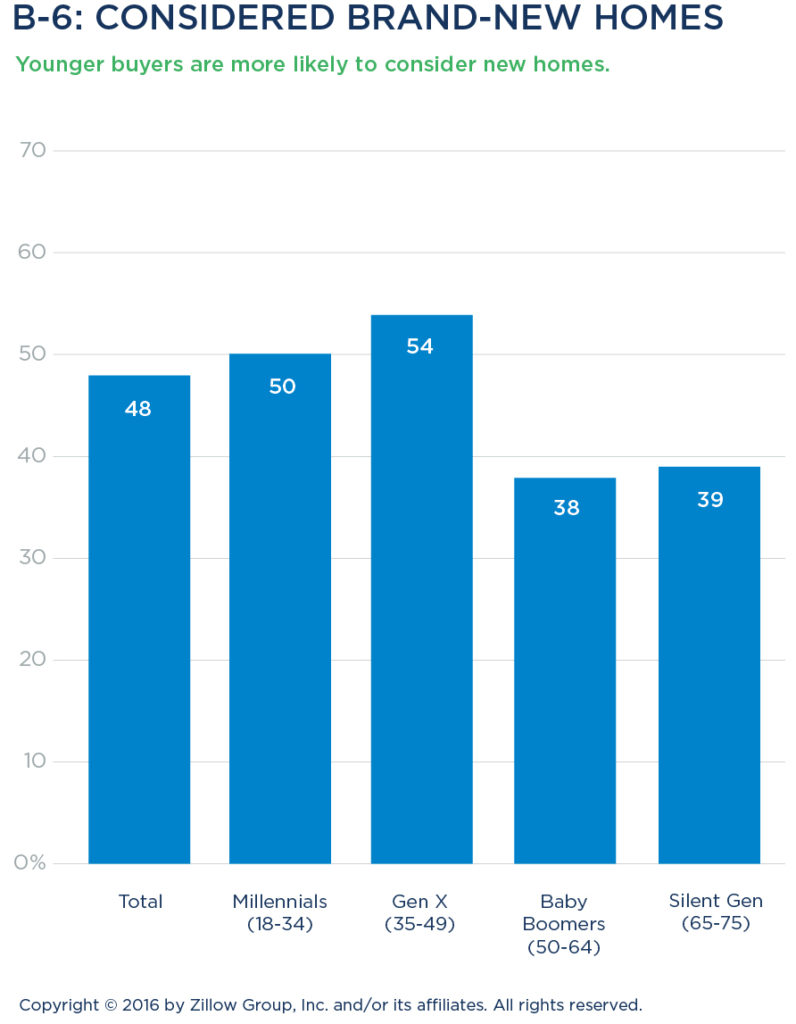 (18 percent versus 14 percent). Additionally, 28 percent of buyers consider purchasing a short sale—a home listed by a seller who owes more on their mortgage than the home can fetch.
Brand-new homes a popular consideration
Nearly half (48 percent) of all buyers consider homes that have never been lived in before.Younger buyers (50 percent of Millennials and 54 percent of Generation X) are significantly more likely than Baby Boomers or the Silent Generation (38 percent and 39 percent, respectively) to consider newly built properties. Additional cohorts showing a greater desire for brand-new homes include men (51 percent versus 44 percent of women), families with kids (55 percent versus 42 percent of households without kids), and those earning more than $75,000 (56 percent versus 40 percent of those earning less than $75,000).
Among buyers who were interested in and ultimately purchased brand-new homes, the following information is most desired during their search:
Energy-efficiency savings (48 percent)
Builder reviews/ratings (47 percent)
Options for customizing the home (45 percent)
Inventory of a community, including when a lot becomes available (44 percent)
Additional information desired by buyers of brand-new homes includes options for interior designs and finishes (41 percent) and community amenities such as playgrounds, fitness rooms and pools (37 percent).
Many buyers consider renting
While searching for a home, more than half of all home buyers (52 percent) also considered renting, with almost one quarter (23 percent) looking at the option seriously. Thirty-seven percent of first-time buyers seriously consider continuing to rent, and 12 percent of repeat buyers are seriously contemplating renting their next home instead of buying it.
Among generations, younger Millennial buyers (71 percent) are the most likely to consider renting. As buyers age, their interest in renting declines. Just over half (54 percent) of all Generation X buyers considered renting, around one-third (32 percent) of Baby Boomers did, and only 18 percent of those 65 years and older looked at it.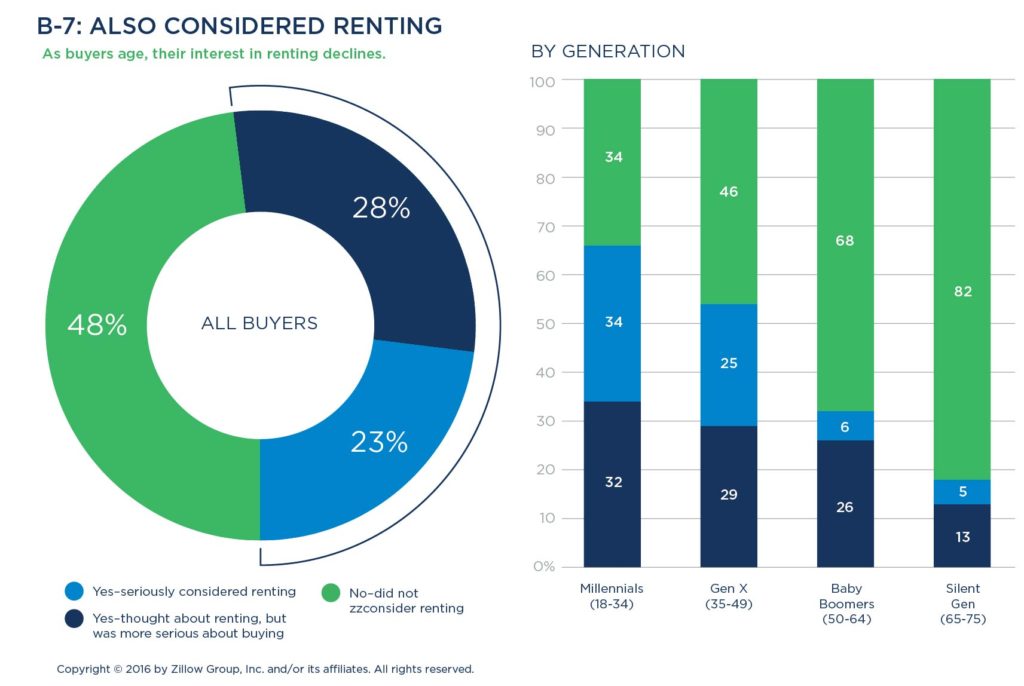 Men (55 percent) expressed more willingness to rent than women (45 percent), and also indicated more often than women that they seriously looked at renting (28 percent for men, 15 percent for women). Renting was also a common consideration among buyers in lower-income brackets.
To read more of the report, you can download the full version or read more on the Zillow website.