Forbes Magazine ranked Orlando No. 10 in the United States for most promising job markets in Q4. Employment outlook was measured by an analysis done by Manpower Group, which conducted more than 11,000 interviews with U.S. employers. Positive job market outlook is defined as the percentage of employers anticipating an increase in hiring, minus the percentage of employers that anticipated a decrease (adjusted for seasonal variations).
Orlando had a positive net employment outlook in Quarter 4 of 23%. The strongest overall outlook was for employers in the South and West regions of the US; employers in the South reported a net employment outlook of 22% for the fourth quarter. Orlando's outlook of 23% landed above the 22% South U.S. regional employment growth.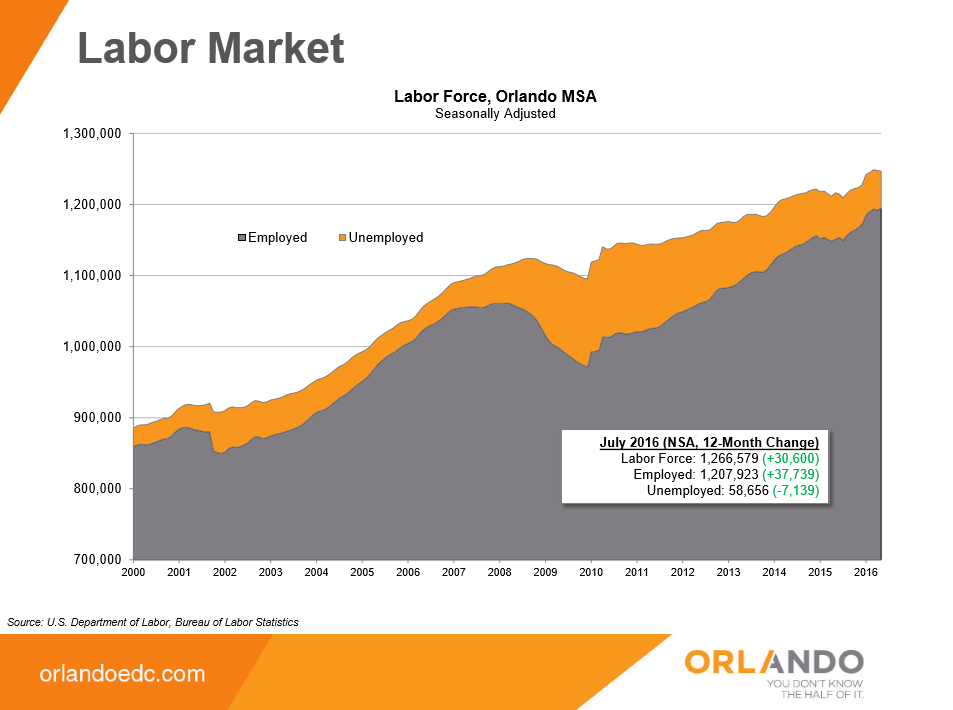 The Orlando Metropolitan Statistical Area (MSA) has shown strong labor market growth over the last decade (Figure 1). Read more on the recent Orlando MSA labor market in our Orlando Insight – Quarter 3 publication.
See more labor market and other Orlando MSA statistics in our Data Center: Orlando MSA Market Overview.
As indicated by the Forbes ranking, Orlando's labor market outlook is projected to grow in Quarter 4. Subscribe to the Orlando EDC Economic Updates to stay in the know about Orlando MSA labor market statistics, and be the first to read our Quarter 4 Orlando Insight publication.